The Auto-Sleepers Motorhome Range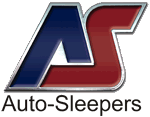 Dolphin Dorset are proud to display the prestigious Auto-Sleepers products from our premises in Christchurch, Dorset.
Model Range
Auto-Sleepers have manufactured motorhomes of exceptional quality from their premises in Worcestershire for over fifty years. The motorhomes are hand built by experienced craftsmen combining practicality with internal and external design innovations. Never before have these qualities been better combined than in the latest range. For those that aspire – arrive in style with an Auto-Sleepers.
The Auto-Sleepers 2016 range consists of 22 models which are split into four categories
Downloads
For the complete selection of Auto-Sleepers Brochures and their latest price list please visit auto-sleepers.com/brochures