Your selected motorhomes to compare
Loading your selected motorhomes to compare...
Auto-Trail Imala 715 - Sold
New SALE PRICE: Huge Savings
Location:
Dolphin Dorset
Chassis:
Fiat
Engine:
2.3JTD (130) Manual
Berths / Seatbelts:
4 (2 Seatbelts)
Vehicle Weight:
3500 Kg
Layout:
Fixed Bed (French style)
Roof Profile:
Lowline (low profile)
Conversion Type:
Coachbuilt
Vehicle Ref:
AT02719
Price:
£48,995
(£4,960 Saving)
Description
2019 Auto-Trail Imala 715 New Coachbuilt motorhome for sale in Dolphin Dorset UK. This model is 4 berth with 2 seatbelts. 2.3JTD (130) engine with Manual transmission.
HUGE REDUCTION ON THIS NEW 2019 UNREGISTERED MODEL!!
- LO-LINE
- MEDIA PACK
- GT PACK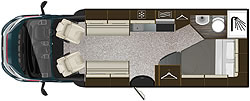 If you like this model, you may also be interested in...