Dolphin Gets GOLD & Silver Award!
Dolphin gets Double at Awards
Dolphin Motorhomes has scooped a GOLD and Silver award at the prestigious Practical Motorhomes' Owner Satisfaction Awards 2016. A Gold award was won in the category 'Supplying Dealer of New Motorhomes' and a Silver in 'Supplying Dealer of Pre-Owned Motorhomes'.
Now in its 11th year, this is the only motorhome awards scheme that is based entirely on owners' experiences and judgements. Customers from across the nation have been feeding back their experience of their dealers and the service received.
Josh Willis, Managing Director of Dolphin Motorhomes, said, "Winning these awards is a huge achievement and a credit to our team at Dolphin. We are proud that our customers have taken the time to vote for us. We pride ourselves on our customer service and would like to take this opportunity to thank all our customers for the support they have given us."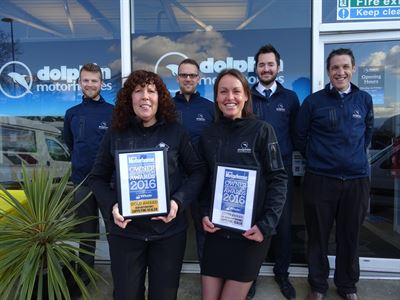 Date created: 12 Feb 2016