Spring event is this weekend!
You are invited to our Brand New Exclusive Spring Event... THIS WEEKEND!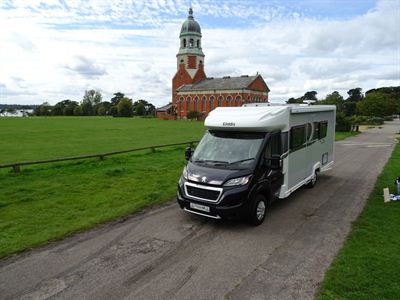 Our brand new three day event where we will be showcasing a selection of our new and used motorhomes is taking place this weekend and we would love for you to join us. From Friday 11th - Sunday 13th March, the event will be held at the picturesque Royal Victoria Country Park (RVCP) in Netley Abbey on the waterfront.
View a wide range of motorhomes which will be on display along with manufacturer demonstrators and support and take the time to speak to our knowledgeable sales team. Plus take the opportunity to test drive any of our vehicles.
The RVCP is home to the Royal Victoria Hospital that was built in 1856 and served the British military for over a century. The iconic Chapel is all that remains of the quarter mile long hospital. There is also a children's play area, tea rooms, miniature railway as well as plenty of beautiful space for walks.
You are invited to join us as a day visitor any of the three days. No booking is required for day visitors although car park charges do apply. We will be hosting food and entertainment on the Saturday night and invite you to join us.
Event Details
View our Wide Range of New and Used Motorhomes On Display
Special Offers on ALL New and Used Motorhomes
Saturday night Food and Entertainment including Bingo and Quiz
Free Day Visitor Entry (RVCP parking charges apply)
Manufacturer Demonstrators and Support
Test Drives and Demonstrations
Expert Advice from our Sales & Service Team
We will be open:
Friday:9am - 6pm
Saturday: 9am - 5pm
Sunday: 10am - 4pm
We look forward to seeing you
The Dolphin Team
Date created: 08 Mar 2016