Come and see us at the NEC Show!
Motorhome Show, NEC Birmingham. Tuesday 11th to Sunday 16th October
The Dolphin team will once again be at the UK's biggest motorhome show featuring all the major UK and European manufacturers under one roof. See the latest 2017 models from all the key manufacturers at this year's NEC. Our team will be able to tell you about the new products on their way to us now.
Whilst we do not have our own stand at the show; five of our sales team will be working on the following manufacturer stands:
Andy Diggle: (Auto-Sleepers / Hall 6 Stand 55)
Auto-Sleepers has 54 years of experience when it comes to building motorhomes for their customers. Andy is our Auto-Sleeper expert and isn't far behind that working his 24th NEC show this year on the Auto-Sleeper stand! He's definitely the man to ask if you have a question!!
New to Auto-sleepers is the Corinium Duo; a four berth, two seatbelt motorhome and their first with an island bed. The Corinium Duo provides a spacious front lounge with a fully featured kitchen leading into a true flagship of a rear bedroom with spacious single beds and a full width en-suite washroom.
Visit Andy on the stand for a full overview of the whole range.
Cheryl Aldis & Steve Barnes: (Auto-Trail / Hall 7 Stand 20)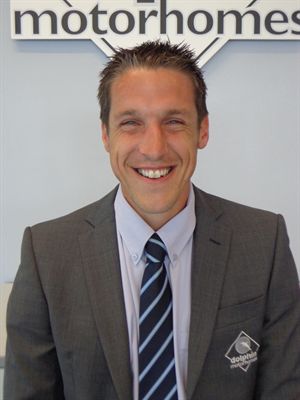 With eight new models to the market this season, a visit to the Auto-Trail stand is a must!
The Serrano offers spacious touring for two or four in a versatile layout with extra carrying capacity. This brand new Delaware 'S' features an AL-KO chassis and two luxurious fixed single beds. There's a central washroom, separate washroom cubicle and kitchen, completed by a lounge at the front.
This season's Tracker RS is 85cm longer than its predecessor. An L-shaped kitchen together with a tall, slim-line fridge freezer creates additional space for a much larger rear washroom and an extended lounge area.
The industry leading five year warranty continues for the 2017 season plus a 10 year body construction integrity warranty is included with all 2017 models.
Visit Cheryl and Steve and they will show you around the full line up of 2017 vehicles.
Ryan Smith: (Elddis / Hall 20 Stands 39)
Elddis is focussing on the family market with its only new model this year, the Elddis Envy 196, a six-berth with an electric drop-down double bed over the front lounge. A second double bed can be made below this drop down, using the front lounge seating.
The 196 replaces the over-cab 180 meaning over-cabs no longer feature in the line-up.
Visit Ryan on the Elddis stand who will talk you through the Elddis Envy range which is bespoke to Dolphin Motorhomes and comes with a whole host of extras as standard. This stylish and eye catching range has bespoke features including metallic graphite grey or white cab & bumper, silver dashboard kit, silver front bumper grill and much more.
Graham Emery: (Bailey / Hall 19 Stands 29)
Bailey's top-selling Autograph range, which is now built on the high spec 160 bhp Euro 6 Peugeot Boxer coupled to an ultra-low Al-Ko chassis, is completely revised.
The Peugeot cab is now all-white to match the Alu-Tech body, which comes with a six-year warranty. There are new graphics and a completely new rear end. The new naming method shows the digits that follow the name as the body length followed by the travel seats. E.g. 75-2 = 7.5m, 2 berth.
The Autograph 79-6 offers a front and rear lounge plus a drop down bed above the front lounge diner. External styling has seen plenty of changes including a new sun roof, flush fit windows and revamped graphics. The rear boasts a new moulding that looks more upmarket with bar-style LED rear lights. Bike rack fixings and media pack are standard
The 75-2 has a French bed in the rear nearside corner, a washroom in the offside corner and a parallel lounge at the front, which converts into a double.
Visit Graham on the stand for a full run through of all the models.
If you would like to speak to any of our sales team during the show; please contact us on 02380 406777 and we can make all the arrangements!!
Date created: 11 Oct 2016