AUTO-TRAIL LAUNCH NEW 'SUPER LOWLINE' STYLE VARIANT!!
AUTO-TRAIL LAUNCH NEW 'SUPER LOWLINE' ROOF VARIANT!!
The NEC show in October 2010 saw the launch of the 'Super Lowline' from Auto-Trail. This introduction was extremely well received by exisiting Autotrail owners and by the dealer network, with a large percentage of the show orders placed with the new style roof. The new varaiant was produced for the 2011 season with first build slots going through the factory in January.
The 'super lowline' is a superb example of modern motorhome design with new sleek exterior styling that provides an even more aerodynamic shape and incorporates a large panoramic automotive style sunroof. Inside, the living area obtains maximum benefit from the extra natural light, while maintaining all the many features synonymous with Britains most popular luxury motorhomes.
All the Auto-trail Tracker, Apache & Frontier models are availible to order with a highline, lowline or super lowline style roof (excluding apache 634 which only has the highline or lowline option).
The fundamental values which underpin everything Autotrail do remains unchanged and the introduction of the new 'super lowline' is a result of listening to the customers changing requirements.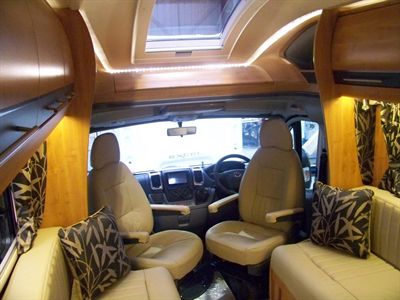 Date created: 19 Nov 2010