Shamba Show Success
May we take this opportunity to thank all our customers who braved the weather and kindly attended our 1st ever event off site at the Shamba holiday park. Despite the poor conditions on Friday & Saturday, we hope you found the weekend a great success and enjoyed it as much as we did. We were overwhelmed with an incredible amount of thank you cards & e-mails (please see below) and really appreciate your kind comments and positive feedback, this response makes all the hard work & expense all worthwhile!!
We are confident this will be event we will hold and enhance for a number of years to come and we are already speaking again with Shamba as to our thoughts for July 2013. We would welcome any feedback you may have as to ways you feel we can improve this event & should you have any thoughts, please can you kindly e-mail us at events@dolphinmotorhomes.co.uk
Whilst a lot of other businesses are guilty of chasing new customers & forgetting their existing ones, this event is a great way for us to thank & spend time with our customers as we really appreciate your business & value your custom.
Kind regards
Dolphin Team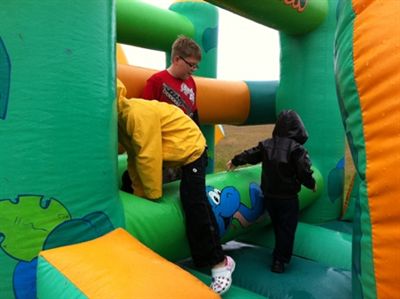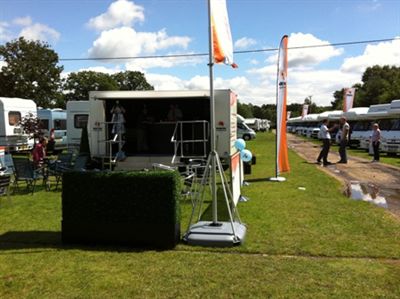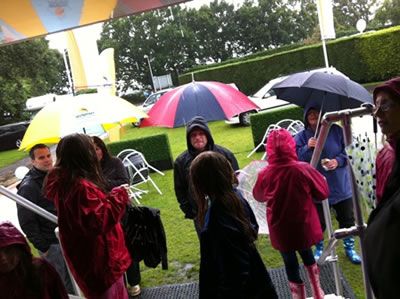 Dear Alishe and staff at Dolphin Motorhomes
Just to say thank you so much for your hospitality this weekend at Shamba holiday park.
We apologise for our early departure, never the less it gave us a chance to meet yourselves and other motorhome owners and to see the large range of homes you have to offer.
We will call in to see you next time we are in Southampton.
Kind regards, Eileen & Peter Scott
Hi Dolphin
We would just like to say a big thank you for inviting us to your promotional weekend at Shamba. Your hospitality was very good and we could see that all the members of your team worked very hard despite the appalling conditions!
We thoroughly enjoyed ourselves and particularly enjoyed being able to view the Bessacarr tag axle which is on my wish list! When the time is right I would like to speak with you again.
Thank you again to you and all your team.
Regards
Jeremy Weeks and family

Hello Alishe,
From myself and my family, we would like to thank you All at Dolphin for a wonderful weekend. It was a shame the weather was against us but we enjoyed ourselves. It was very good for ourselves being new to the Motorhome game.
Thank you again from Ian, Vicky and Chloe
Hi Josh and Team
A great thank you for including me in your weekend. It had a true Family atmosphere – The "Family" being Your family, Staff and Customers. It was good to see the 3 Willis generations playing such skilled football.
Thanks again
Regards
Chris Huffam
Dear Josh, Tom, Cheryl and Team
We would just like to say thank you for such a brilliant weekend.
Congratulations and well done.
Jim and Maureen Tree
Dear Josh & team,
We would like to say thank you for a splendid weekend at Shamba. Thanks for all your hard work & effort you put in to making it thoroughly enjoyable despite the monsoon weather. Everything was so well organised. The food was excellent & the staff of Shamba were always cheerful & helpful. We enjoyed the quiz on Sat night Graham & enjoyed meeting up with like minded "Motorhomers" & we look forward to doing it all again next year.... in the sunshine!! We think you can mark it up as a total success.
Kind regards
David Irons & Linda Leiper
WOW.....WHAT A WEEKEND!!!! Just wanted to leave a quick message to thank all of the Dolphin Team for an amazing weekend at your first ever Summer Spectacular. The facilities at Shamba Campsite were great but it was the warm welcome from the team that made for a brilliant time despite the slightly damp weather!! The advice and support you continue to provide for all of your customers is second to none. Everyone that we spoke to over the weekend couldn't speak highly enough of the company which is testament to all of your hard work over the years. Thanks again and can't wait for the next one!! Steve, Amy, Jackson & Oakley.
Hi Alishe
Just a few lines to say thanks to you Josh and all the rest of the staff of Dolphin for last weekend.
In spite of the dreadful weather we had a most enjoyable time, it was good to see everyone making the best of the circumstances and pitching in to make it such a good weekend.
We especially liked the efforts of the bingo caller/quiz master who had to deal with such a high spirited crowd, and also the very friendly staff at Shamba.
Once again thanks very much for the weekend will stop by to thank you personally when time permits
yours Martin & Lesley Lush
Many thanks to you & all the team for the weekend- we really enjoyed it despite the lousy weather!
Richard Hollick
Hi Josh,
Mo and I (and Sophie) would like to say thank you to you and all your team for a great weekend, we thoroughly enjoyed ourselves.If you have another Dolphin reunion next year we would love to come.
kind regards,
Lynne and Mo
Dear Alishe
Can I just thank you and all of the team for a wonderful weekend.
The way all of the team kept on going despite the terrible weather is to be commended.
Thank you all
Regards
Robert & Jenny Morrison
Hello Alishe and the team at Dolphin
Myself, and John my husband would like to thank you sincerely for laying on such a generous and fun weekend. Although it rained, we had a lovely time. We looked at all the vans on show and we were able to plan what type of van we will be purchasing in the future when we are ready to part exchange ours. we really hope that the show was beneficial to you. You deserve it!
Kind Regards
John and Trish Evett
Hi Alishe,
Just arrived home from the weekend which was somewhat wet as you well know. Never the less it was a great weekend well organised in spite of the awful weather. I just wanted to thank you for inviting us to be a part of it and I'm sorry we did not find a new van to get from you. We made some new friends and had fun at the bingo and quiz nights. Once again many thanks from us both for a super weekend. We were very impressed with it all.
Best wishes, Ron and Wendy Coles.
To all the team,
We would just like to say a big thank you to all of you who made the event weekend at Shamba so enjoyable. Your cheerfulness, enthusiasm and hospitality were to be admired and very much appreciated by us.
We enjoyed the opportunity to meet not only your team but fellow motorhomes owners. Those we met all had such positive experiences of dealing with your sales & after sales service, we look forward to the next one!
Kind Regards & Thanks to you all, Michael & Judy Barrett
Just a note to show our appreciation to all the staff at Dolphin Motorhomes for the fantastic weekend at Shamba, their hard work has not gone unnoticed.
Many Thanks, Ron & Trish Brill
Hi Alishe
Firstly may I thank you and all your staff for a thoroughly enjoyable weekend at Shamna recently, despite the awful weather we all enjoyed the event and you all deserve great praise for all your efforts and "the show must go on attitude". Please pass our thanks on to Josh.
Thank you all again and we are already looking forward to next year!!
Regards
Andy Barton
Thankyou all for a lovely weekend (shame about the weather) you really put yourselves out for everyone to enjoy. BBQ was brill thanks to the caterers & the activities were great. You deserve a medal for all your hard work.
Hope you do another one next year, pray for sunshine.
Many thanks again, Aubrey & Julie Sims
A big thankyou to all the staff for a wonderful weekend, despite the rain everyone was enjoying the great hospitality you gave everyone.
Lynda George.
To Josh and all the Dolphin team,
Thankyou for a lovely weekend at Shamba, Best Wishes From Derek & Sue Court.
To Josh, Cheryl and the team,
Thankyou for a fabulous weekend. You all worked so hard, always with smiles and nothing was too much trouble.
Thanks got to Paul & Graham for their help with our TV which has been working fine so far.
A special 'thankyou' with 'big woofs' from little munchies to Aunty Cheryl. We enjoyed the dog show very much even though it was wet and windy.
See you soon, Alison Kevin & Munchie Egleton.
To Josh & your team,
Just to say thankyou very much for a fantastic weekend at Shamba.
Geoff & Heather Hunt.
Josh & The team at Dolphin
Just thought we would write a few lines to say what a lovely weekend we had despite the weather. You had it well organised and the catering was lovely.
Will said you had a nice BBQ and he enjoyed playing with Max. Thankyou very much for asking us & hope to meet up again next year.
Kind Regards
Brian,Rossaly & Will Chandler
To Alishe & all at Dolphin Motorhomes,
Thankyou for all your hard work at Shamba July 2012.
Trish Liddan & Mike
To Josh, Tom & All at Dolphin,
Just to say a big thankyou for a very good weekend. It was only a shame the weather was against us. Although it didn't stop us enjoying all your hard work.
Hope you have all dried out.
Love from Sue & Phil Dyson
Date created: 21 Jul 2012