Wave 105 Cash for Kids Donation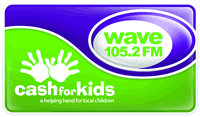 Here at Dolphin Motorhomes we like to help raise money and awareness for a range of charity's and what better way to finish 2012 by donating toys and money to children who need it most this time of year!As a company we are donating both cash and toys for this great cause. To find out more about Cash for Kids and how you can help please see details below:
"Millions of children in poverty will wake up to a Christmas without presents. That's why Wave 105's Cash for Kids, Foresters, the international financial services organisation have launched Mission Christmas.
We're asking you to buy gift(s) that can be given to a disadvantaged local child to make their Christmas morning that little bit brighter. We're looking for presents suitable for children and young people aged 0 to 18 years, and you can donate your new and unwrapped gift at one of our drop-off points.
If you'd prefer to donate cash instead that's great too! You can make your donation online, in person or over the phone. Please read our 'How to Donate' page to the right for full details. www.wave105.com/cashforkids
Thank you for your generous support, from everyone at Wave 105, Cash for Kids and all of the children we'll be helping this Christmas."
Buy an extra gift or donate cash and help make a sad Christmas a Happy Christmas for children here in the south.
Having read this, the Dolphin team had to act and proceeeded to purchase over £300 worth of new toys. Alishe Williamson & Josh Willis visited the Wave 105 premises to deliver the toys and meet their charity team. The team explained the toys are taken to a distribution centre and delivered to disadvantaged children across the South.
Date created: 29 Nov 2012