Dolphin Announce New Bailey Franchise
Bailey range to arrive at Dolphin Motorhomes
Dolphin is delighted to announce the appointment of the Bailey Motorhomes franchise at its Dorset branch.
Since its entry into the motorhome market three years ago Bailey of Bristol has quickly established a reputation for building vehicles that provide the unique combination of superior performance, award-winning design and unbeatable value for money.
Arriving in September to Dolphin's Dorset branch, theApproach Autograph takes this successful formula a stage further by broadening theoverall appeal of motorhomes making them an attractive proposition to a wider audience.
The three elements of the vehicle are integrated visually with a striking new exterior colour scheme featuring a graphite cab, a polar white body and a contemporary graphics scheme. Together these combine with an aesthetically enhanced aero-dynamic body shell profile to give the Approach Autograph range a distinctive look.
Model range
Dolphin look forward to displaying the full complement of models from this exciting new range;-
Approach Compact 540 – NEW 3 berth low-line with end bathroom & designated travel seats
Approach Autograph 625 – 2 berth low-line with rear u-shaped lounge
Approach Autograph 730 – NEW 4 berth low-line with island bed
Approach Autograph 740 – 4 berth low-line end bedroom with fixed double bed
Approach Autograph 745 – 4 berth low-line endbedroom with fixed double bed & designated travelling seats
Approach Autograph 765 – 6 berth low-line end-lounge with drop down double bed & designated travelling seats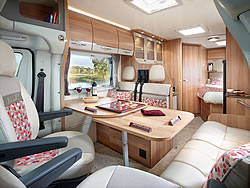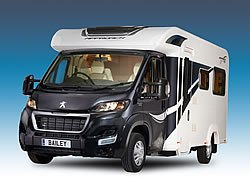 What makes Approach Autograph Motorhomes different?
A high performance Alu-Tech bodyshell with a GRP outer skin to provide greater protection against the elements
All models are built using a fully specified Peugeot Boxer Euro 5 cab powered by a 2.2 Hdi engine complete with a 6-speed manual gearbox
All models are built using the ultra-low profile lightweight AL-KO AMC chassis for improved driving performance and increased user payloads
A fully specified Alde radiator heating system combines with the superior performance of the Alu-Tech bodyshell making the Approach Autograph the ultimate four-season vehicle
Spacious interiors offer comfort and practicality in equal measure plus high levels of specification and competitive on the road prices put a premium product within reach of many more people for the first time.
Josh Willis, Managing Director of Dolphin Motorhomes, said "We are delighted to announce we will be stocking the new range of Motorhomes from Bailey. We have been impressed with the product for the past few years and felt now was the right time to introduce it at our Dorset branch. The 2015 model have a new design cab which looks very smart and we we're pleased to see MMM announcing the Autograph 765 as its Family Motorhome of the year due to its design and genuine family size.
Bailey has an excellent reputation in the industry for quality, service and parts and we are pleased to be able to bring this to Dolphin customers."
To book your test drive call 01202 479444
Date created: 29 Jul 2014